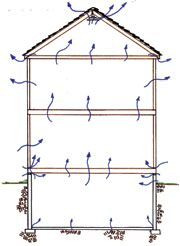 Air leakage is built into the contruction process as your house is being created.
As soon as the framing crew finishes their work of nailing together your studs, joists, rafters, sheathing, and beams to create the house shell, a team of other workers march in and begin to cut it apart.
Electricians, HVAC contractors, and plumbers will drill and saw their way through, creating channels for the wires, heating ducts, water lines, and waste pipes that need to be run through the house.
The holes that are created don't compromise your home's strength, but they do result in a network of air leakage points that can let air out, and in-- costing you comfort and money!
Air leakage points in your home can be small, such as the ones found around an electrical outlet in an exterior wall. However, large openings are also common, such as the ones created by plumbers in floors and framing as they install pipes, or the longgaps like the one created when the eave soffit does not meet the exterior wall in an airtight connection.
At Dr. Energy Saver, we identify the air leakage points within your home and provide the solution! Air leaks can trigger your heating and cooling systems to run all the time, reconditioning air that continues to escape through the holes. Thus, you're paying far more to heat and cool your home, and never reaching the comfort level you desire!
Contact Dr. Energy Saver today to schedule your comprehensive home energy audit where we will identify all problem areas and prioritize the necessary upgrades and repairs. We proudly offer many services including home insulation, air sealing and much more! Our services are available to homeowners in and around Beachwood, North Olmsted, Akron,Shaker Heights, Strongsville, Cleveland Heights, West Lake, Canton, Hudson, Solon, and more.